The Watch and Act alert has been downgraded to an Advice due to rainfall over the fireground.

Restricted Access Permits are still required for residents to enter the Tilden Park area.

Road closures also remain for parts of the warning area.

7:36pm – 6 Feb 2021
The Emergency Warning area has been downgraded to a Watch and Act as the bushfire is now contained and controlled.

1:16pm 6 Feb 2021
There have been significant changes to warning areas and a large number of suburbs are no longer in the bushfire warning area, however the situation may change quickly.

Great Northern Highway is now open, with speed restrictions in place.

The Beechboro Evacuation Centre has now closed.

Roads east of Toodyay Road have reopened to the public.

11:33pm – 5 Feb 2021
Roads east of Toodyay Road have reopened to the public.

4:52pm – 5 Feb 2021
Cooler weather conditions and progress of mopping up along containment lines means areas east of Reserve Road are no longer under immediate threat.

People in or around the intersections of Clenton Road, O'Brien Road and Ewing Road need to be aware that there is still uncontained fire activity.

The area east of Toodyay Road is expected to be open to the public later today.

3:21pm – 5 Feb 2021
People in or around the intersections of Clenton Road, O'Brien Road and Ewing Road need to be aware that there is still uncontained fire activity.

If you plan to leave, leave now if the way is clear by travelling in a direction away from the fire.

9:54am – 5 Feb 2021
If you are in the area of Wilson Road and Chittering Road in Bullsbrook, enact your bushfire plan now.

5:04pm – 4 Feb 2021
Emergency Warning boundary has been updated to include a separate fire near Wilson Road and Chittering Road intersection. Aircraft and firefighters are on the scene.

4:03pm – 4 Feb 2021
Shady Hills Estate and East Bullsbrook are in the immediate danger area and it is too late to leave.

9:17am – 4 Feb 2021
People in or around Clenton Road and Berry Road, Gidgegannup are in the immediate danger area and it is too late to leave. You must shelter in place, or if you are prepared you must actively defend. The bushfire is headed towards Shady Hills Estate and East Bullsbrook and people should leave now.

12:48am – 4 Feb 2021
It is too late to leave for people on Avon Ridge and Joshua Mews area. You are in immediate danger. You must shelter in place or if you are prepared you must actively defend.

It is no longer safe to leave for people in the area north west of Gidgegannup and east of Walyunga National Park. You need to shelter in place and actively defend.

5:10pm – 3 Feb 2021
People in the Shady Hills Estate and East Bullsbrook area will be under threat by fire shortly. You need to leave in a northerly direction away from Shady Hills. People who have evacuated will not be able to return home until directed by authorities. Firefighters are expecting strong south easterly winds to push the fire in a north/northwest direction today.

11:36am – 3 Feb 2021
Firefighters are continuing to fight the fire and are protecting life and property within the warning areas. People in the warning areas must remain vigilant and keep up to date

11:43pm – 2 Feb 2021
A third evacuation centre has been set up at Swan Active Beechboro – 290 Benara Road, Beechboro.

4:23pm – 2 Feb 2021
The recent changes to the southern and western boundary of the Emergency Warning area are due to the fire continuing to progress in a west-south-westerly direction.

3:12pm – 2 Feb 2021
A second evacuation centre has been established at Swan Active Midland – 16 Gray Dr, Midvale WA 6056.

11:54am – 2 Feb 2021
A bushfire Emergency Warning is in place for people in parts of Aveley, Bailup, Baskerville, Belhus, Brigadoon, Bullsbrook, Ellenbrook, Gidgegannup, Henley Brook, Millendon, The Vines, Upper Swan, Walyunga National Park, Wooroloo and Wundowie in the shires of Mundaring, Chittering and Northam and the City of Swan.
Residents are advised they are in danger and need to act immediately to survive. There is a threat to lives and homes.
86 properties have been destroyed by the fire.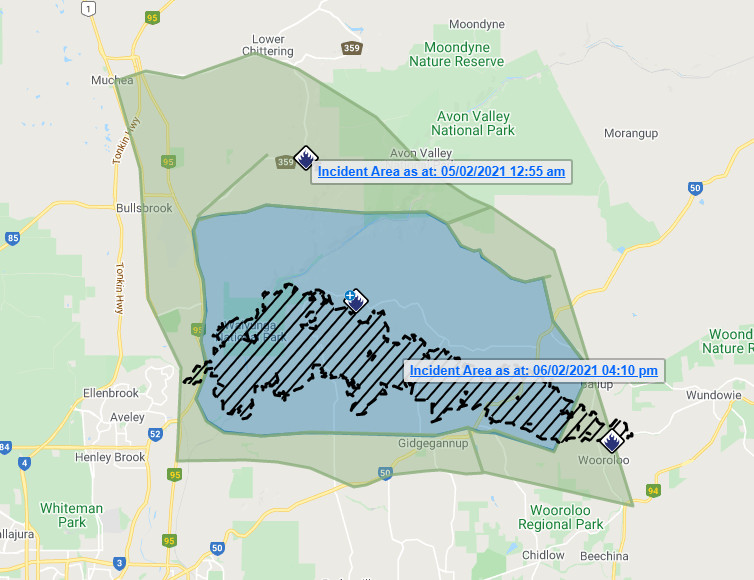 What to do
For people within the marked Incident Area (the black shaded area within the map), it's too late to leave and leaving now would be deadly.
You need to shelter in your home in a room away from the fire front and make sure you can easily escape.
You must shelter before the fire arrives, as the extreme heat will kill you well before the flames reach you.
Close all doors and windows and turn off evaporative air conditioners, but keep water running through the system if possible.
Choose a room with two exits and water such as a kitchen or laundry.
If your home catches on fire and the conditions inside become unbearable, you need to get out and go to an area that has already been burnt.
Protect yourself by wearing long sleeves and trousers, made from cotton or wool, and strong leather boots.
For people in the remainder of the Emergency Warning area, if you are not prepared or you plan to leave, leave now if the way is clear by travelling in a west/south westerly direction.
If you are in an area subject to COVID-19 lockdown restrictions, put your bushfire plan into action now and continue to follow precautions to minimise the spread of the virus.
If you have been personally directed to self-isolate or quarantine due to COVID-19:
Leave now, find alternative suitable premises and wear a mask.
If you are unable to return to your quarantine location within one hour, telephone WA Police on 131 444 to advise them you have had to leave due to an emergency.
Regardless of your location, continue to follow COVID-19 precautions and maintain appropriate physical distancing.